At first glance, the 24h Le Mans in 2018, provided little reason to celebrate for BMW Motorsport, during the race the two BMW M8 showed GTE, but in a phased manner with a strong Performance and battled in the top group of the GTE Pro class positions. Especially with the declining temperatures in the late afternoon both cars were very fast on the road and went in the meantime, on the positions 2 and 5, the later in the evening, the racing luck was on the side of BMW Motorsport.
Problems with the dampers overtook both vehicles, and made a longer repair stop. On Sunday Morning, the early end came for the BMW M8 GTE with start number 82, because a continuation of the race due to damage after an accident was impossible. The sister vehicle was a short time later also in luck: debris on the track damaged the radiator and made a repair stop required took a lot of time.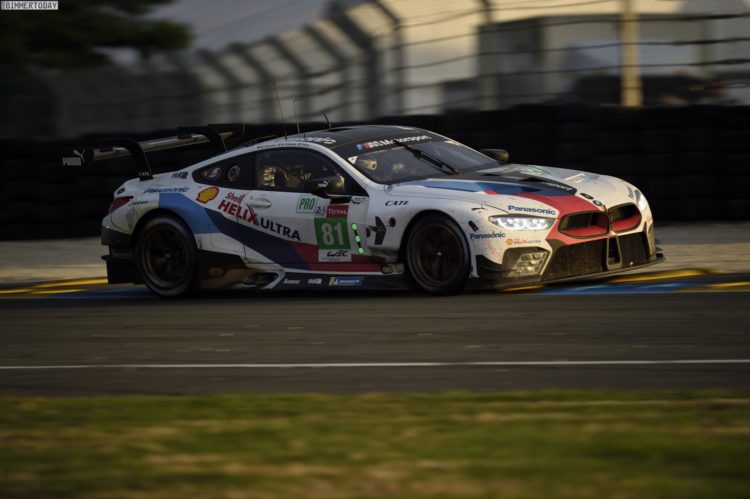 The overall victory at the 24 hours of Le Mans in 2018 and Toyota in the LMP1 without a rival factory team went to a largely unchallenged victory celebrated. In the GTE PRO class Porsche drove to a convincing victory. BMW was in the end not more than 12 accessible, although the Pace of the vehicles was just the beginning of the race very promising.
Jens Marquardt (BMW Motorsport Director): "on our return to the 24 hours of Le Mans, we have experienced a real rollercoaster of emotions. First of all, it was wonderful to see that we were able to fight in terms of Pace at the front of the top occupied GTE-Pro class. Our drivers have delivered great duels with the competition and were able to work up to rank two. The BMW M8 GTE has left a very strong impression. The Podium seemed to be within reach. Unfortunately, technical problems and an accident brought us to the reward of the hard work in the preparation. Nevertheless, the Positive outweighs the negative to this race for us: The Fans have seen a lot of Action in the GTE-Pro class. We were able to prove the potential of our new cars. In addition, we experienced on Friday, the world premiere of the new BMW 8er coupe on this unique stage. This is also why we will keep this race in good memory and as an incentive, in the final of the 'Super Season' 2019 even more coming back here. My thanks and respect goes to all involved in this exciting BMW project with heart and passion."
Ernest Knoors (team principal, BMW Team MTEK): "We have reached the end of three weeks and a 24 hours full of UPS and Downs. The first hours of the race were fantastic. Alone through this Phase to get through and to be still competitive, was a nice reward for the Team and the driver after two years of hard work. Then Le Mans has, unfortunately, hit – and hard. We can still be proud of us."
Martin Tomczyk (#81 BMW M8 GTE): "The BMW M8 GTE is here, raced in Le Mans very well. We had the Pace to the very front of the ride. The Porsches were very fast, but we were able to go your Speed for a long time. But then, the Defects of spring have thrown at us, unfortunately, back to two cars is crucial. It is incredibly unfortunate that we could not reward ourselves for the hard test work of the past few months with good results."
Nick Catsburg (#81 BMW M8 GTE): "Our BMW M8 GTE was very fast, the Set-up we have made many right decisions. Unfortunately, we here in Le Mans, the cars about a long time very hard. In the process, and also something broken. This happened to us, unfortunately, in the case of the two vehicles. This is bitter, but it's part of racing. Nevertheless, it was all in all a great experience."
Philipp Eng (#81 BMW M8 GTE): "This week in Le Mans was an unbelievable experience. I had goosebumps in the Box several times, as I've seen how tight the Team is and how much passion each and every individual in this race has put. We have fought on the track in order to place two. To be a damper stopped, of course, is disappointing. But this experience will make us even stronger."
Alexander Sims (#82 BMW M8 GTE): "The driver came to me completely unexpectedly. Before that, I felt nothing Unusual. Maybe the fluid was somewhere on the road, because other vehicles are off the track. In any case, our departure is very sad for everyone in the Team who have worked so hard. Our car had really good Pace."
António Félix da Costa (#82 BMW M8 GTE): "We have proven that we are not fast enough for victories and podium places. This was only the second 24-hour race for the BMW M8 GTE, and the second WEC race for BMW Team MTEK. So we are still in the midst of a learning process with the new vehicle. In this regard, we have taken a great deal from this race. I, as a driver, learned a lot. In my first Stint I was a little nervous, but in the following double stint, I had a lot of fun. We were fast and I could overtake many cars. Then, the broken shock, and the accident set us back. We will come back next Time even stronger."
Augusto Farfus (#82 BMW M8 GTE): "It was great to be back at Le Mans driving and to be an honor to be part of this project and this event. As of 2011, I am the Start-up risks, we were able to show a very good Pace. Although we have not had here in Le Mans, too much experience, we were in the front. Then we lost first due to the damper issue time, then we had to give up due to an accident. Nevertheless, We have presented to us as a real Team. This gives us the Motivation, in the next year to come back and make it better."
[resources : bimmertoday.de]
by :
klonr.com